Vol. 16 No. 3 (2020): Focus on Covid-19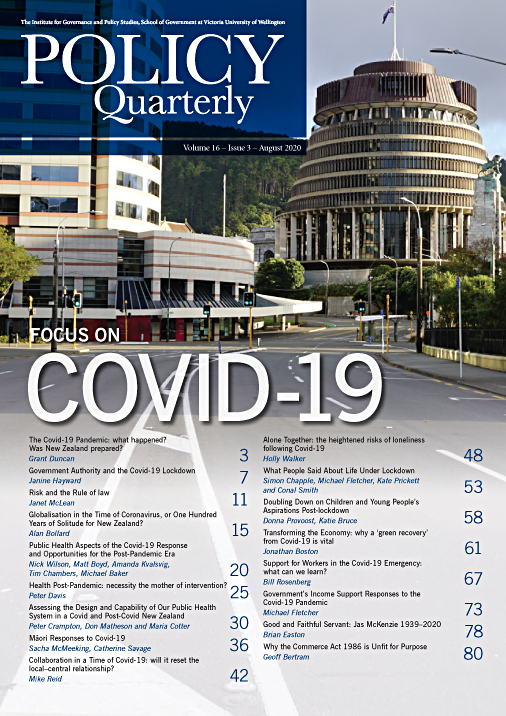 The pandemic and our efforts to control it have affected all aspects of our lives and have had significant economic and social costs. People's lives have been 'turned upside down', and everyone has had to make significant sacrifices to help get the country through and to protect themselves and their families. The negative consequences have not fallen equally upon all New Zealanders, however. Those who suffered serious illness or lost loved ones come first to mind. Those with underlying health conditions who had to take extra care, those who had to close their businesses, and those seeking employment in a depressed labour market have suffered much more than those who were in good health all the way through and who worked from home. Many people have suffered from social isolation and loneliness, and schools had to close, disrupting children's education. On the other hand, many people reported that the lockdown gave them a welcome opportunity to spend more time with family and wha-nau.
The government's decisions were necessarily made in the face of deep uncertainty – in a this-changes-everything moment – and time was of the essence. The articles herein were drafted largely in May 2020, in the midst of the global pandemic, while New Zealand, with closed borders, appeared to be successfully eliminating the virus. The authors were aiming at a moving target. Our conclusions, therefore, are often speculative. But it was necessary to record, 'in the thick of it', what happened, what New Zealand did right, what could be done better in future, and how we recover from the pandemic and its many consequences.
This issue of Policy Quarterly therefore records, from a range of policy-relevant perspectives, how New Zealand was responding to the pandemic during that critical period. Some of those responses could lead to lasting benefits for communities, the healthcare sector and the environment. Future readers will be able to judge with hindsight our responses, and to reflect on the extent to which our concerns and our recommendations have endured. I am confident, however, that the recommendations made by contributors to this issue will be good food for policy thought as we rebuild.
Full Issue