Under the Radar
international regulatory cooperation in ASEAN and New Zealand
Keywords:
international regulatory cooperation, regulatory harmonisation, mutual recognition agreements,, networks
Abstract
International regulatory cooperation (IRC) refers to a diverse range of ways government regulators from different countries work together on developing and enforcing regulations. It has grown rapidly over the last 40 years, but it is little understood because much of it occurs beneath the radar. New research shows that ASEAN countries, along with the New Zealand government, are deeply imbedded in a complex web of international regulatory cooperation arrangements and agreements. Among ASEAN countries these groupings are predominately multilateral, bilateral and regional. In New Zealand, bilateral agreements with Australia predominate. Much of this cooperation occurs outside formal free trade agreements and the World Trade Organization's Technical Barriers to Trade regime. Instead, regulators often work directly with their foreign counterparts through informal networks. The economic and technological drivers of the growth in international regulatory cooperation will persist in the post-Covid-19 era, providing continued impetus. For example, the need to manage international spillovers will increase the need for cooperation on regulatory policy design and enforcement and other regulatory practices to ensure that domestic regimes remain effective. The experience of Covid-19 has underlined the value of cooperative activities between states, such as information gathering and exchange. Dealing effectively with three of the principal issues currently confronting public policymakers – pandemics, climate change and effective governance of the digital environment – requires extensive international cooperation.
Downloads
Download data is not yet available.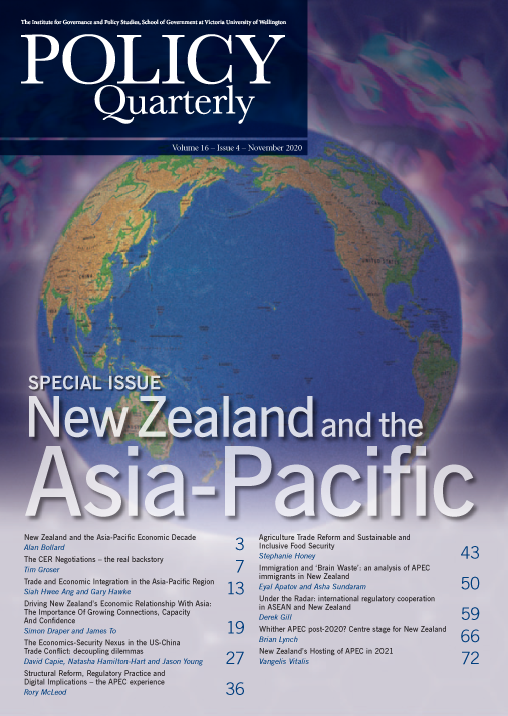 Downloads
License
Permission: In the interest of promoting debate and wider dissemination, the IGPS encourages use of all or part of the articles appearing in PQ, where there is no element of commercial gain. Appropriate acknowledgement of both author and source should be made in all cases. The IGPS retains copyright. Please direct requests for permission to reprint articles from this publication to igps@vuw.ac.nz.