The Nga-tahi Project
competency development for the vulnerable children's workforce
Keywords:
innovation, collaboration, intersectoral, children, Mäori, workforce
Abstract
Ngätahi is a three-year project aiming to identify and embed the additional competencies needed for the children's workforce to work with families experiencing intimate partner violence, child abuse and neglect, mental illness, addictions, poverty and poor supports. Mäori tamariki (children) and whänau are over-represented in this client group. Collective impact, appreciative inquiry and a robust tikanga inform the project. A formal Treaty of Waitangi partnership with the local iwi, Ngäti Kahungunu, provides cultural leadership at all levels of the project. Twenty-seven agencies or services representing 441 practitioners have engaged in the project in Hawke's Bay. The three priorities for competency development identified are: engaging effectively with Mäori (EEWM), mental health and addictions (MHA) and trauma-informed practice (TIP). Within the TIP work stream, addressing practitioners' burnout, fatigue and vicarious trauma is the first priority. The three work streams are currently developing curricula and identifying leaders to deliver training locally, and delivering activities to embed the new competencies into practice and metrics to demonstrate the impact of the new competencies on practice and on outcomes. Qualitative interviews demonstrate high commitment from the workforce and its leaders, consistent priorities for development of additional competencies and important lessons learnt. We suggest that this model may be helpful for policymakers considering other collaborative activities to address 'wicked' or complex problems, and offer some lessons learnt to date.
Downloads
Download data is not yet available.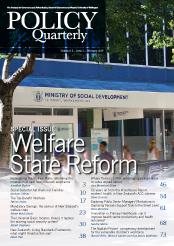 Downloads
License
Permission: In the interest of promoting debate and wider dissemination, the IGPS encourages use of all or part of the articles appearing in PQ, where there is no element of commercial gain. Appropriate acknowledgement of both author and source should be made in all cases. The IGPS retains copyright. Please direct requests for permission to reprint articles from this publication to igps@vuw.ac.nz.